Are you tired of the daily frustrations of wearing glasses and contact lenses? Why not consider LASIK and change your life for the better?
When you live in San Leandro, you're already soaking in the best that this lovely area can offer you, or so you think. But after LASIK at Batra Vision, you can better take advantage of all that beautiful San Leandro has to offer without needing eyeglasses or contact lenses.
Keep reading for 7 ways to enjoy San Leandro even more after you've had LASIK and changed your life for the better!
1. Celebrate the History of San Leandro at the Annual Cherry Festival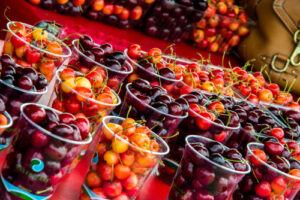 In 1909, San Leandro was christened "The Cherry City" following a bumper crop of cherries from their many orchards. San Leandro has celebrated their agricultural history ever since with the annual Cherry Festival!
The Cherry Festival kicks off with the Cherry Parade in historic downtown San Leandro. It continues throughout the day with food trucks, live music, kid's activities, and of course, cherries! A day at the Cherry Festival is a great way to experience the community spirit of San Leandro.
You'll love this annual festival so much more when you don't have to think about your options for seeing during the day. Glasses may slip down your face, while contact lenses can get too dry and cut your day of fun short.
Put your mind at ease after LASIK. When you correct your vision, you can think about more important things. During the festival, this includes getting the juiciest and most succulent cherries!
2. Hit the Links at Monarch Bay Golf Club
At San Leandro's Monarch Bay Golf Club, golfers can play a range of challenging courses with premium golfing conditions and stunning views of the Peninsula and the San Francisco skyline. Golf the renowned Tony Lema Course, an 18-hole, Scottish link-style course, or the 9-hole Marina Course. Wherever you play, you can enjoy bay breezes and spectacular views from every hole.
Golfers know that the key to a good game is seeing the ball. If you have to wear visual aids, your vision may get obstructed by pesky frames or frustrating irritation from contacts.
Say goodbye to these hassles and enjoy a better golf game after LASIK! Your ability to see contrast will also improve, making it a cinch to improve your game and see for miles. Who knew you could become a better golfer with something as simple as a vision correction procedure?
3. Picture Yourself at Marina Park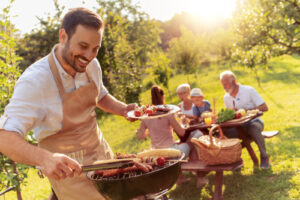 Marina Park, located on the picturesque San Leandro Bay, is a great spot to add incredible posts to your social media feeds. The landscape at Marina Park is a ready-made backdrop. Love a good selfie? It's the perfect spot for one!
There's so much to do at Marina Park! Whether you take a stroll along one of the many paths in the park, host a BBQ with family and friends at one of the park's built-in grills, or relax on a bench to take in the view, it's a lovely place to spend a day.
Photos from your day at Marina Park are sure to generate many "likes" from all your social media followers. What doesn't go with your picture-perfect day are visual aids slowing you down.
Experiencing glare coming off your glasses while getting the perfect shot is the quickest way to ruin your day! It's life-changing when you have LASIK, as most patients end up with 20/20 vision or better!
Combine that with the vision correction procedure's quick recovery, and it's easy to see why millions have chosen this elective procedure!
4. Enjoy a Local Brew at Drake's Brewing Company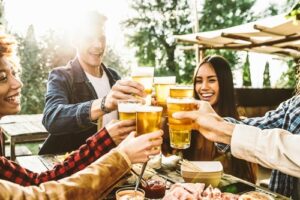 If you love a local, independent brewery, a visit to Drake's Brewing Company is a great way to spend a sunny weekend afternoon. Established in 1989 in a former Dodge factory, Drake's Brewery is a San Leandro favorite. They offer a wide range of beers, from robust porters to hoppy IPAs. All beers are also brewed on-site at Drake's state-of-the-art brewery.
At Drake's Barrel House, you can take in the San Leandro sunshine in their German-style outdoor beer garden, enjoying one of Drake's 24 beers on tap. Can't choose just one beer? Consider attending a beer tasting at the Barrel House's warehouse-style tasting room.
Outdoor beer gardens are so much better when you don't have to think about when to put on your prescription sunglasses! Sure, they'll protect your eyes, but they can be frustrating when you have to take them off and put them back on all afternoon.
Make seeing the world around you a piece of cake by choosing visual freedom. Besides, if you're tired of deciding between the sunglasses you want and those that protect your eyes, getting LASIK solves this problem entirely. All you have to do is buy sunglasses that provide UVA and UVB protection from the sun's rays.
5. Indulge Your Sweet Tooth at the Ghirardelli Ice Cream and Chocolate Factory Outlet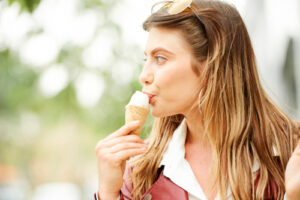 Summer is the perfect time to enjoy the delicious ice cream at the Ghirardelli Ice Cream and Chocolate Factory Outlet. Located at Ghirardelli's San Leandro headquarters, you can savor the aroma of roasting cocoa beans and freshly made chocolate as you enjoy your icy treats.
The Ghirardelli ice cream parlor features sundaes made with handmade Ghirardelli hot fudge served in a chocolate-dipped waffle bowl. You can choose from a dozen rich flavors for your sundae. These can be on the cone of your choice or in a milkshake or malt.
Whatever option you choose, the Ghirardelli's Ice Cream and Chocolate Factory Outlet will have something to satisfy your sweet tooth. Imagine how great your icy treat will taste after correcting your vision!
After all, if all the senses are connected, enhancing one will also affect the others. Take a minute to open your eyes after LASIK and taste the flavors.
It's a whole new experience. You'll also have a new appreciation for the little things, like how bright and vibrant all the colors around you look. You've never seen the world like this, even while you were wearing glasses and contacts!
6. Treat Your Dog to a Park Day at the Oyster Bay Regional Shoreline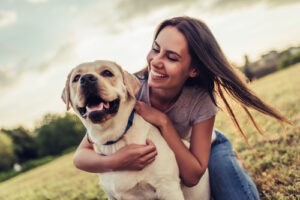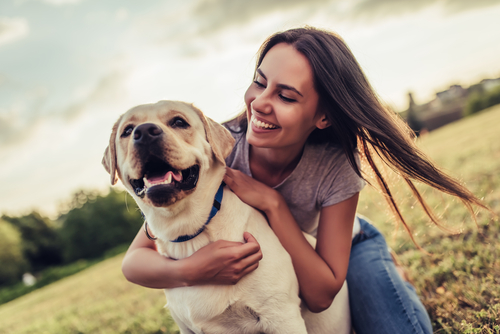 If you have a dog that loves a good park, the Oyster Bay Regional Shoreline is the perfect place to take your furry pal. One of San Leandro's newest parks, OBRS, was created from environmentally-friendly reclaimed land along the East Bay side of San Francisco Bay.
The OBRS features both paved and unpaved trails, including the 4.6-mile Oyster Bay Regional Shoreline Loop, which is dog-friendly and even has a dog-accessible water fountain along the trail. While your pups need to be on a leash along paved trails, they can roam free along most unpaved trails, making the Oyster Bay Reginal Shoreline dog heaven!
There's nothing like taking a minute to look at the shoreline and noticing how beautiful it is. With no glasses or contacts to worry about, you can be present in the moment.
LASIK is a way of correcting your vision by reshaping your cornea, but it also gives you more moments to appreciate the things that matter.
7. Take In Some Culture at the Historic BAL Theatre
The historic BAL theatre opened its doors to the San Leandro community in 1946 and has been providing the community with quality entertainment options, from films to live music performances to live theatricals. The theatre is a beautiful example of Art Deco architecture and was "the Bay Area's Most Modern Theatre."
The BAL Theatre is now operated by the non-profit San Leandro Curtain Call Performing Art organization. Its mission is to "promote and produce exceptional programs in theater, music, comedy, concerts, dance." With so many diverse offerings, the BAL Theatre is a great place to experience a cultural performance in San Leandro.
Imagine how much more incredible seeing the theatre will be after you have LASIK. Sets will look lusher. You also won't have to spend time squinting at the program to see who plays the lead. Instead, you'll have clear eyesight without boundaries to hold you back.
Getting LASIK will bring the best of San Leandro into pure, intoxicating focus. Ready to find out if it's the right vision correction procedure for you? Schedule your LASIK consultation at Batra Vision in San Leandro, CA, now!
---